There's a relatively new natural sweetener on the market.  Well, it's new to us, but very old to the Chinese who have been using luo han guo  – a pulpy fruit  –  as a natural sweetener and healing remedy for many centuries. It is also known as "monk fruit," so named because it was often eaten by the luohan monks in China.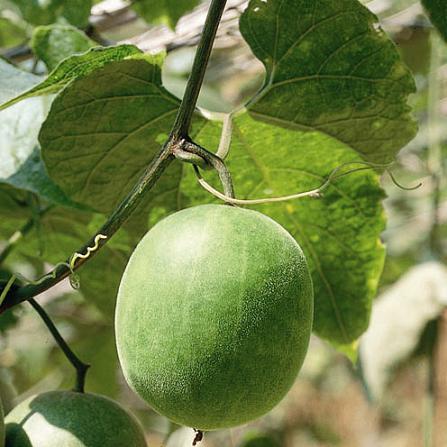 Traditionally used to make a sweet tea with medicinal properties, Luo han guo is called the "longevity fruit" because the steep mountain fields in Guangxi Province in southern China, where it is grown, have an unusual number of residents that live to be one hundred years old or more.
The fruit, which grows on vines, looks a bit like a kiwifruit – but it has completely different qualities. From the same family as melons and cucumbers, monk fruit is round, 5 – 7 centimeters in diameter, smooth, yellow-brownish or green-brownish color, with a hard but thin skin covered by fine hairs. It contains a sweet, fleshy, edible pulp and numerous seeds.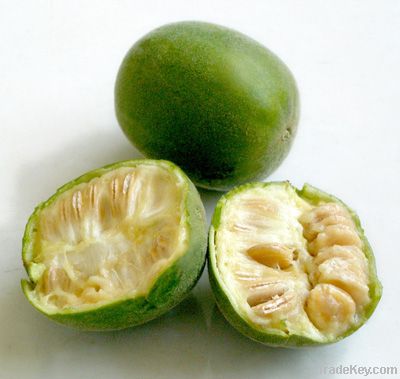 Monk fruit has almost no effect on blood sugar levels, with only 2 calories per serving. Monk fruit sweeteners are created by removing the seeds and skins of the fruit, crushing the fruit, and collecting the juice which is then dried and ground into a powder.  The fruit extract contains natural substances called mogrosides (from the same family of glycosides found in stevia). These natural compounds make monk fruit about 250 times sweeter than sugar, and like stevia's glycosides, they are also responsible for some of the health benefits associated with the fruit. Many promising studies are being conducted, which are confirming the nutritional and healing properties of monk fruit.
The mogrosides in monk fruit are not absorbed into our blood stream through the small intestine, which is why they don't provide any calories.  Instead, they travel through the small intestine to the large intestine (colon) where they become food for the friendly probiotic bacteria that keep the colon healthy.  In other words, mogrosides are a type of prebiotic!
The mogrosides in monk fruit have many other health benefits, including the following:
Cancer
Research at Nihon University in Japan indicated that luo han guo has the potential to fight tumors.  They have identified nearly 20 compounds for further investigation. A 2003 study from the University of Hiroshima identified two mogrosides inmonk fruit that showed "remarkable inhibitory effects" on the growth of skin tumors in laboratory animals.
Heart Disease
A 2002 study published in the Journal of Atherosclerosis and Thrombosis found that the mogrosides in monk fruit have antioxidant properties that prevent the oxidation of LDL cholesterol.  Oxidized LDL cholesterol plays a role in the formation of plaque in arteries and increases the likelihood of heart disease and strokes, therefore monk fruit may defend against heart disease.
Allergies
A 2001 Japanese study published in the Journal of Traditional Medicines illustrated that mogrosides in monk fruit act as antihistamines to against allergies and asthma.
Diabetes
A study published in the April 2008 online issue of Nutrition Research found that a monk fruit extract had a powerful impact on the health of diabetic rats. When given the extract for 4 weeks, the rats showed decreased levels of blood sugar, total cholesterol, and triglycerides, and improved liver health.  In addition, there was an increase in HDL (the "good") cholesterol levels and protective antioxidants found in the rats livers. These results indicate that monk fruit may have a role to play in the management of diabetes and diabetic-related cardiovascular damage.
In 2007 the British Journal of Nutrition published the results of a 13-week study conducted on diabetic rats at Osaka Prefecture University in Japan. The study showed an improvement in insulin response and a reduction in blood sugar were found in rats given extracts of monk fruit. There was also evidence that monk fruit has a  protective effect on the kidneys which are sensitive to damage caused by diabetes.
A study from the August 2006 issue of Molecular Nutrition and Food Research offers evidence that mogrosides may help to protect the pancreas in type 1 diabetic mice. The pancreas is responsible for the production of insulin. In diabetics, certain pancreatic cells are damaged and, therefore, do not produce insulin as they should. The study showed that the mogrosides in monk fruit extracts may counter the inflammation that can damage insulin producing cells in the pancreas. Other promising studies on rats from the Journal of Agricultural Food Chemistry demonstrated that mogrosides do not raise blood sugar levels and even slow the entrance of other sugars into the bloodstream.
The traditional use of the fruit is to collect it while it is still green and unripe, as the ripe fruit tends to ferment easily and leads to the formation of several bitter and astringent aromas.  After collection, the fruits are slowly dried in ovens, which preserves it and removes most of the offending aromas.  Traditional uses include medicinal teas and soups.
A modern process has been developed to allow the sweet tasting mogrosides to be extracted from the fruit and leaving behind the bitter and astringent aromas.
Like stevia, monk fruit can be purchased in powdered form in packets or in larger containers, or as a liquid extract. It can withstand the high temperatures of baking, so you can use it in recipes and to sweeten foods.
DEE'S RECOMMENDATIONS FOR MONK FRUIT (LUO HAN GUO):
Sources:
1. M. Ukiya, T. Akihisa, H. Tokuda, et al., "Inhibitory Effects of Cucurbitane Glycosides and Other Triterpenoids From the Fruit of Momordica Grosvenori on Epstein-Barr Virus Early Antigen Induced by Tumor Promoter 12-O-Tetradecanoylphorbol-13-Acetate," Journal of Agricultural Food Chemistry, 50 no. 23 (November 6, 2002): 6710-6715.
2. E. Takeo, H. Yoshida, N. Tada, et al., "Sweet Elements of Siraitia Grosvenori Inhibit Oxidative Modification of Low-Density Lipoprotein," Journal of Atherosclerosis and Thrombosis, 9 no. 2 (2002):114-120.
3. S. Takagi, et. al., "Anti-Allergic Activity of Glycopeptide Isolated from Perilla Frutescens," Journal of Traditional Medicines, 18 no.6 (2001): 239-244.
4. Xiang-Yang Qi, Wei-Jun Chen, Li-Qin Zhang, Bi-Jun Xie, "Mogrosides Extract From Siraitia Grosvenori Scavenges Free Radicals in Vitro and Lowers Oxidative Stress, Serum Glucose, and Lipid Levels in Alloxan-Induced Diabetic Mice," Nutrition Research, 4 no. 28 (April 2008):278-284.
5. Yasushi A. Suzuki, et. al., "Antidiabetic Effect of Long-Term Supplementation with Siraitia Grosvenori on the Spontaneously Diabetic Goto Kakizaki Rat," British Journal of Nutrition, 97 (2007): 770 – 775.
6. Xiang-Yang Qi, Wei-Jun Chen, Li-Qin Zhang, Bi-Jun Xie, "Effect of a Siraitia Grosvenori Extract Containing Mogrosides on the Cellular Immune System of Type 1 Diabetes Mellitus Mice," Molecular Nutrition and Food Research, 50 no. 8 (August 2006): 732-738.
7. Y.A. Suzuki, et al., "Triterpene Glycosides of Siraitia Grosvenori Inhibit Rat Intestinal Maltase and Suppress the Rise in Blood Glucose Level After a Single Oral Administration of Maltose in Rats," Journal of Agricultural Food Chemistry, 53, no. 8 (April 20, 2005): 2941-2946.